The Healing Seminars: Kauai 1989 & Chicago 1990 by Herb Fitch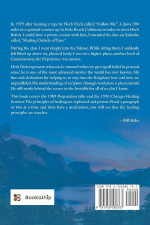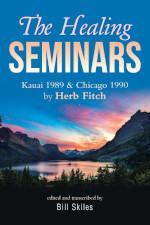 "The power and scope of spiritual healing are virtually unknown in our mental and material world. Most people know it only by name and usually by hearsay. Exactly what is spiritual healing? What makes it so different? Why is it totally unlike any other type of healing known to the world? We will find all the answers, I hope, in these talks which are to follow."
–Herb Fitch
This series of talks which were mailed out to students in 1989, were a preparation for the "Chicago Healing Seminar," which took place the following year in 1990. These talks were some of the deepest talks Herb ever made and they certainly deliver on his promise to take us into what he termed, "New Dimensions in Healing."
–Bill Skiles
This volume may be purchased from Amazon, Barnes & Noble, BookWhip.
---
Herb Fitch – The Revelation of St. John the Divine – Two Volumes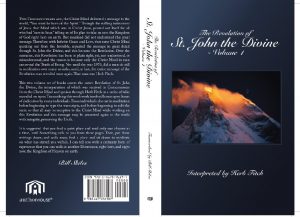 Herb Fitch's in depth classes on – The Revelation of St. John the Divine which he gave in 1970 are now available in book form. All twenty-five tapes, some two-hundred and fifteen-thousand words have been transcribed into a beautiful two volume set which you can take to the beach, or up in the mountains, or to your favorite meditation chair to study at your convenience for a deeper spiritual understanding. Together with the audio files which are freely available on this website, they will make a wonderful addition to any library.
These volumes can be purchased at Barnes & Noble, Authorhouse, Amazon, Kindle, Nook Books.
---
These Herb Fitch Series of Talks are now available
as Kindle and Nook Books: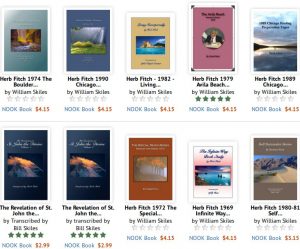 1) Herb Fitch 1969 Infinite Way Book Study
2) Herb Fitch 1970 Revelation of St. John The Divine Vol 1
3) Herb Fitch 1970 Revelation of St. John The Divine Vol 2
4) Herb Fitch 1972 The Special Seven Series
5) Herb Fitch 1973-74 La Jolla Series
6) Herb Fitch 1974 The Boulder Creek Seminar
7) Herb Fitch 1976 Mount Hood Seminar
8) Herb Fitch 1977 Maui Sense to Soul Seminar
9) Herb Fitch 1979 Avila Beach Beyond Time Series
10) Herb Fitch 1980-81 Self Surrender Series
11) Herb Fitch 1989 Chicago Preparation Series
12) Herb Fitch 1990 Chicago Healing Seminar
13) Herb Fitch 1993 San Diego Seminar
14) Herb Fitch 1983 Orlando Divine Life Seminar
Also, Bill's books have been reformatted for: Kindle and Nook Books:
1) Steps to Mystical Experience
2) Secrets of the Spiritual Kingdom